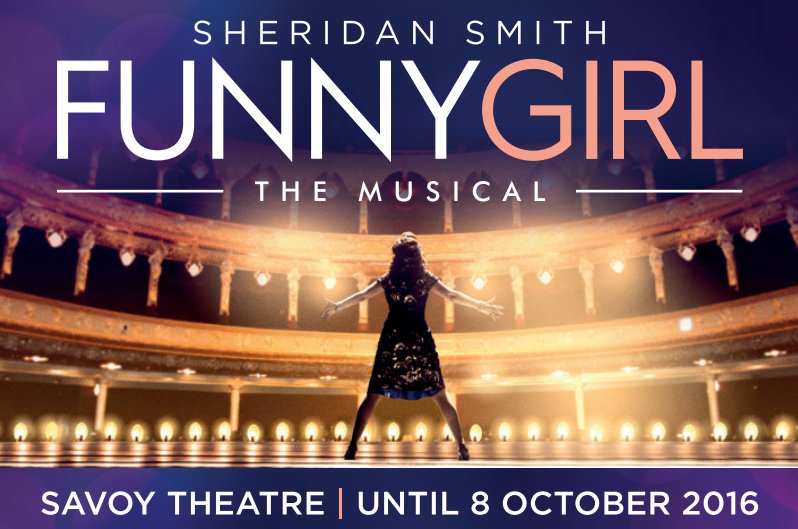 Second time around.


I'll admit, given my first experience with Sheridan Smith in the role, I was kind of hoping her understudy, Natasha J Barnes, would be on (she now shares the role with Smith who, for some reason, is unable to perform eight shows a week) especially given the raves she received when she filled in for a few months when Smith took leave (in fact the reviews were better for Barnes than Smith). As it happened, Smith was on. I had my fingers crossed she would, at least, get through the first act but otherwise left expectations at the door. As it turned out she completed the entire show. Just.



This production transferred from the Menier Chocolate Factory and was reworked in certain regards when it reached the West End stage - the design was enlarged and dance sequences were expanded. With a revised book by Harvey Fierstein (original by Isobel Lennart), Music by Jule Styne and lyrics by Bob Merrill the musical contains some iconic numbers including 'People' and 'Don't Rain On My Parade' and originally starred Barbra Streisand who has been intrinsically linked with the show ever since. It is, perhaps, because of this fact that a revival has yet to appear on Broadway and has only now materialised in the West End of London. Smith's profile and following was clearly enough to give the producers confidence in transferring to the West End (a confidence that must have been shaken following recent events) and, if nothing else, this production does indicate that "Funny Girl" need not rely on Streisand to sell it. It does, however, require a comedic actress with strong vocal gifts to lead the production. More on that later.
The production itself is relatively simple - not surprising given where it started - and doesn't have a massive chorus or orchestra. The simple production design by Michael Pavelka has some lovely elements including mirrors which are used evocatively. My only real qualm is with the backdrop which shows the auditorium of what appears to be a grand opera house, rather than a Broadway theatre fitting for the Zeigfield Follies back in the day. Travelators are used to effect throughout but this is the extent of the most technical aspects of the show (which makes the previous cancellation due to 'technical difficulties' harder to believe). Mark Henderson's unobtrusive lighting fits easily into the simplicity of the production as do the costumes of Matthew Wright.
Lynne Page's choreography is likewise relatively simple yet effective and the direction by Michael Mayer serves the show well, especially his use of Pavelka's mirrors which reflect the idea that the story is actually told in flashback.
The orchestra, which actually contains a string section, may be a touch thin on the ground but the sound they produce is quite impressive and the musical direction is confident, although 'Who Are You Now' (which in this production becomes an entirely pointless duet between 'Fanny' and 'Nick') and 'The Music That Makes Me Dance' are performed at such a tempo as to make their emotional content weak and ineffective.



The company are really excellent and contain numerous stand-out performances, from Marilyn Cutts, Valda Aviks and Gay Soper as 'Mrs. Brice' and her friends to Bruce Montague as 'Florenz Zeigfeld' who is both commanding and tender. But Joel Montague as 'Eddie Ryan' is a revelation. He dances and sings strongly, creating a character of real dimension and one the audience can empathise with. Darius Campbell as 'Nick Arnstein' cuts a striking and dashing figure and his vocals are as strong as he is still. It is this stillness which creates a dramatic contrast to the hyper-active 'Fanny Brice' of Sheridan Smith. Indeed, Smith's 'Fanny' is quite chaotic and one is not always convinced this is part of the performance. There are several occasions throughout the show where it seems Smith is veering on the edge and this sense of uncertainty and danger is one that can make an audience uneasy. Based on what I witnessed of her performance previously, this time around she is certainly more assured and confident, her diction clearer and her voice stronger (and more in tune), but she still relies too heavily on one or two vocal tricks and facial expressions, which actually become predictable throughout the show, to really make her performance entirely believable. She is indeed funny at times, even affecting, but there are too many points in the production where she is seemingly almost out of control. Her voice is not strong enough to handle the demanding score and in the bigger numbers it was very clear when Smith was gearing up to hit a note and I wonder why some of the numbers' keys were not lowered (this would certainly have aided Smith greatly). Whilst she managed to hit virtually all the notes, the sound that came out often sounded shrill, strained and thin and I found myself thinking of many a mediocre karaoke singer singing those same songs in bars around the world. The fact that Smith visibly broke character to celebrate her getting through 'People' is also not a great indicator. With all that said, Smith can be a moving actress and she does often find little moments to really show her talent. It's just a shame this is inconsistent.



But the show works, even if the revised book is not as successful as one would hope (the second act appears to need more work whilst the first wouldn't be harmed by a little trimming), and this production shows that the ghost of Streisand need not deter producers and directors from staging the show more often. It does show that a strong lead is required, however, and that lead need not be a famous name.
The show has announced a UK tour which is to commence in the new year and I only hope that the producers take these facts into consideration when casting 'Fanny'. Given the reviews she received, they could do worse than cast Natasha J Barnes in the role. At least then I'd get to see her in the part.